The Community Read!
Palaces for the People by Eric Klinenberg
September — December 2019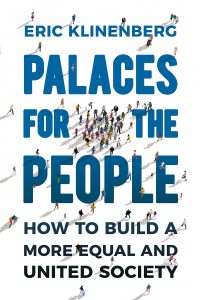 A Community Read is a book club for the entire region, cultivating a culture of reading and discussion by bringing people together around interesting and meaningful works of literature.
Why this book!
Last fall, members of the City's Community Activities Commission and our library director read Eric Klinenberg's book Palaces for the People: How Social Infrastructure Can Help Fight Inequality, Polarization, and the Decline of Civic Life. In it, Klinenberg makes a case for the importance of investing in our social infrastructure such as parks and community centers, just as we do for streets, sidewalks, and public buildings. As libraries were cited as a place that provided this social infrastructure we thought it would make a great community read as we all contemplate our environment and how it relates to our health and well-being.
Ways To Pariticipate:
Read the book as an individual
Start a book club
Suggest the book to your current book club
Join CPLF book club by emailing: afallon@carmelpubliclibraryfoundation.org – You will then receive periodic emails during the span of the Community Read (Oct.-Dec.) engaging you in thought and leading up to an invitation to meet at the Harrison Memorial Library on December 11th at 6:30pm to discuss the book (max 35 – registration required)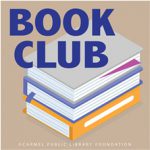 How to Start a Book Club
Starting a book club is rewarding and fairly easy. Here are a few tips below. Please click on the link for more information.
Determine who you're inviting to your book club.
Define the purpose of your book club. Do you want to learn something new? Is it more social?
Where and when will you meet?
Create a process to nominate books to read (topic, length, etc.)
https://www.realsimple.com/work-life/start-book-club-checklist
Click here to see the discussion guide containing a set of questions that you might use for Palaces for the People.
Join the Conversation
Please see recent Blog posts on the right to join the conversation. To keep the conversation fun and on point please review the commenting policy and guidelines.
Get the book:
To check out the book, stop by the Carmel Public Library or visit www.ci.carmel.ca.us/library.